Back to all posts
Posted on
École Nicholas Sheran Annual Project Fair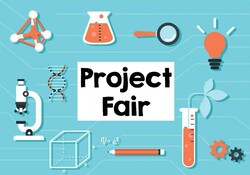 What: Canadian Heritage or Science Project Showcase
Where: École Nicholas Sheran School Gymnasium
When: Tuesday, March 17th and Wednesday, March 18th, 2020
Monday, March 16th: You will be allowed to set up your project in the gym after school until 5:00 pm. The projects will be arranged according to grade level.  When you come into the gym, look for your grade level then for your name on a piece of paper on a table in your grade's section. 
Tuesday, March 17th:
8:00 – 8:30: Set up your project if you didn't do it the night before.  Projects need to be set up by 8:30 am as judging begins at 9:00 am.
*Participants will be called to the gym for projects to be interviewed or judged.
9:00 – 11:30: Judging.  At this time, only participants are permitted in the gymnasium.  Participants are expected to demonstrate respectful behaviour while in the gym. Please remember that everyone will receive a participation certificate but only selected projects will receive a medal.
12:20 – 2:45: School Tours.  Parents are welcome to tour from 12:40 – 2:45 while the rest of the school is touring through. 
2:45 – 3:15: Awards Ceremony. All participants are required to attend.
On Wednesday, March 18th:
8:45 – 10:15: School Tours. Parents are also welcome.
10:00:  Clean up.  All participants are responsible for cleaning up their projects and bringing them home. ALL PROJECTS MUST BE TAKEN OUT OF THE GYM BY 10:15 am! We ask parents to pick up projects as soon as possible.
Who: Anyone from Grades 1-5 can join
Why: Do you often have many unanswered questions? Choose one question to study and research or test a theory and showcase your work. The question could be about a Canadian topic or a scientific query. You will receive wonderful feedback from helpful judges and may be eligible to enter the regional competition to see other amazing entries and even win prizes. You may have a "blast!" (On that note there will be no volcano projects accepted for this year's fair in the interest of exploring new and even more exciting projects. Also, the number of projects that require electricity will be limited to 6). So, start brainstorming and let's have fun!
CLICK HERE for Project Fair Guidelines
If you have any questions, please email: amanda.chudobiak@lethsd.ab.ca or zach.muggeridge@lethsd.ab.ca