Back to all posts
Posted on
October Parent Teacher Conferences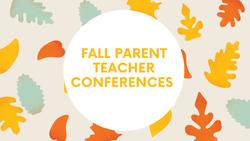 At Nicholas Sheran Elementary School, Parent Teacher Conferences are a key part of our communication strategy regarding your child's progress. Please plan on booking and attending a Parent Teacher Conference with the applicable teacher(s) for each child you have attending at the school. We are using the web-based scheduling application through our website https://ns.lethsd.ab.ca/parents/parent-teacher-interviews . This application allows you, as a parent, to use the Internet to check our teachers' conference schedules and book appointments quickly and easy. With this web-based application, you do not need to create an account. Simply enter your information and sign up to book an interview.
Kindergarten PT Conferences: Tuesday, October 24th from 8:45AM-4:00PM, Thursday, October 26th from 1:00PM-5:00PM & Friday, October 27th from 8:45AM-12:00PM (Mrs. Fujikawa's meetings have been bumped over to Mrs. Peacock's time slots)
Grades 1-5 PT Conferences: Thursday, October 26th from 1:00PM-8:00PM
Registration is NOW OPEN and closes at 8:00AM on Tuesday, October 24th at 8:00AM for Kindergarten and Thursday, October 26th at 8:00AM for Grades 1-5. We encourage parents to book their own appointments. If you miss the booking deadline, please call the school at 403-381-1244 during regular office hours. If you are unable to attend Parent Teacher Conferences, please contact your child's teacher by phone or email. You can visit the Staff Directory page on our website to access emails - https://ns.lethsd.ab.ca/about/staff-directory.