Back to all posts
Posted on
2022-2023 Kindergarten Registration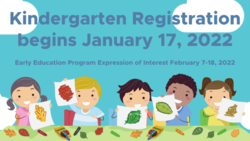 Kindergarten Registration for the 2022-2023 school year begins Monday, January 17, 2022.  In order for your child to be eligible for the 2022-2023 kindergarten program, they must be 5 years old on, or before, December 31, 2022. 
There is a possibility of having both an AM/PM Program and a M/W or T/Th Full Day Program (both with every other Friday morning programs).  These programs will be available based on registration numbers and are NOT guaranteed. You will be contacted in June with program confirmation.  
You will need to include the following documentation to register your child/children at Nicholas Sheran School:
Birth Certificate, Passport or other legal documentation with your child's birth date.  If you do not have a birth certificate at time of registration please complete the Birth Certificate Letter of Intent and attach it to the registration package.   
Proof of Address (ie: phone bill, utility bill, lease agreement etc.)
Registration forms and supporting documents can be brought to the school or emailed to jeanine.miklos@lethsd.ab.ca beginning on Monday, January 17th.
To learn more about the new school boundaries, click this link: BOUNDARIES
You can also enter your address into the School Locator Package to find out what school is your boundary school. Please visit this link: SCHOOL LOCATOR
If you live outside of the Nicholas Sheran School attendance boundary, but still wish to attend Nicholas Sheran school in 2022-2023, please complete and submit the Out of Boundary Application for Admission.