Back to all posts
Posted on
Dawn Walmsley appointed principal for École Nicholas Sheran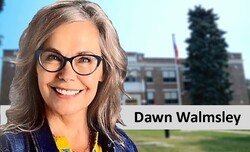 Lethbridge School Division is pleased to announce Dawn Walmsley has been appointed principal for École Nicholas Sheran, commencing the 2021/2022 school year.
Walmsley's breadth of experience as a school administrator is characterized by student-centred decision making, strong instructional leadership and collaborative processes with staff, parents and community. Walmsley is familiar with diverse populations and understands the flexibility and commitment required to meet student learning needs. She holds the strong belief that parents are the primary educators and unwavering support for home-school collaboration is foundational.
Walmsley's leadership is centred on the belief that all students can be successful, and that a skilled and supported teacher is the best strategy for student success.
She is passionate about literacy and numeracy as key components of an elementary education. She also encourages innovation and supports best practice in the classroom as a strong instruction leader.
"I am beyond excited and honoured to join the students, staff, families and community members of École Nicholas Sheran and look forward to building strong and lasting relationships with all . "stakeholders," said Walmsley I have been fortunate to have served as principal at several schools across southern Alberta and École Nicholas Sheran's core values of collaboration, responsibility, compassion and resilience, align with my vision and priorities. I am humbled to be given this opportunity to work alongside a team committed to achievement, inclusion, and innovation." 
Walmsley has been a principal at four elementary schools over the past 15 years. In Lethbridge School Division, she was principal at Senator Buchanan Elementary School and is currently principal at Lakeview Elementary School. Described as a master teacher, she has had the designation of Consulting Teacher in literacy and several years' experience as an elementary teacher at different schools.
Walmsley completed a B. Ed. Degree with Early Childhood Specialization. She completed her Master of Educational Leadership degree at the University of Lethbridge.